You've been mixing more concrete than in the past, maybe you're taking on larger jobs since the recession, but whatever the reason might be, choosing a concrete mixer to meet your needs can be a difficult task. I've put together a few tips to help you decide, or at least get on the right track. Because there are so many manufacturers in the industry with different specs and options, I will keep my suggestions general and use particular models for specific examples. Please let me know if you have any questions!
1. Portable or Stationary?
Initially, you'll need to decide whether a stationary unit or portable unit will be necessary for your application. Obviously, a stationary unit is not intended to be moved on a regular basis so if you plan to mix most of your concrete on one job site for an extended period of time, a stationary unit might be best for you. Portable units come in two basic styles: on-site mobile units and portable Concrete mixers, trailer-mounted Concrete mixers. If you think you'll need to move the mixer around your job site throughout the day, the lighter mobile unit will work best. These are available in wheelbarrow style and a stand-up with folding wheels. If you need a larger mixer that is capable of being towed across town, from job to job. A portable, trailer-mounted unit is probably best for you. With trailer-mounted units, it will be important for you to check whether or not the mixer is rated for highway travel. This is an extremely important safety issue.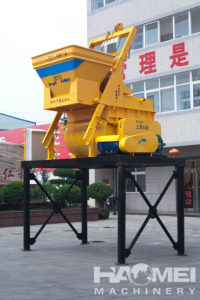 2. Batch Output
Consider the size and scope of your most common projects. Often you can get away with using a smaller mixer, but giving yourself some breathing room will allow you to take on larger jobs in the future. Also, a larger mixer is capable of producing your most common mix much more quickly. For backyard-type projects replacing concrete structures or creating landscaped architecture, a small 'MiniMix' unit may be optimal. With these types of mixers, you're looking at a batch output of anywhere from 1 cu. ft. to about 3.5 cu. ft., which is perfect for most light-duty applications. For larger jobs like residential sidewalks, street patching, and other commercial projects use a towable Concrete mixers like the Crown C3 Concrete Mixer. These larger Concrete mixers have batch outputs of up to 12 cu. ft. and are extremely versatile. For contractors looking for a batch mix solution without hiring a Concrete mixers truck, these units are perfect.
3. Gas or Electric?
This choice seems simple, however, it's still important to give it some thought. Will you be working indoors with the Concrete mixers? If you're working outside and you choose an electric unit, will you always be near an outlet? Not only the difference between gas and electric, but consider the gas engine options available. Often a Robin or Yanmar driven mixer is cheaper and may be more appealing in the short-term, keep in mind that Honda parts and maintenance tend to be easier to come by and are usually much cheaper even though the initial cost is higher. Diesel options are also available.
4. Side Dump or End Dump Concrete mixers?
Depending on your application you may need a side dump or end dump mixer. End dump Concrete mixers are great for keeping the mixer attached to your truck and pouring concrete over curbs or in to tight areas. This option generally comes down to preference unless there is a spacing issue on your job site. Make sure to take a look at the dimensions of your mixer before purchasing to ensure that it will fit within your jobs' available space.
5. Poly Drum Concrete mixers or Steel Drum Concrete mixers ?
This is an important decision whether you are choosing to go with a smaller mobile unit or a large towable unit. Polymer plastic drums can make your mixer considerably lighter and easier to maintain. Poly drums can reduce the weight of your mixer by a considerable amount, which means that it's easier to handle with one person (if it's a wheelbarrow mixer) or that it is much easier to tow, especially for a Concrete mixers  truck that has considerable weight loads already. Also, Poly does not rust and is much easier to spray out with a hose after your job is complete. The only issue with Poly Drums are they tend only to be available for medium to light-duty mixers. However, if you're interested, always check for special order options!
I realize these tips may be brief or partially incomplete, but they will generally be a good start. If you think I've missed something or have anything to add, please leave your comments below!