High yields of bulk concrete plant- Continuous concrete mixing plants are suitable for construction sites where high yields of bulk concrete (such as RCC) are required. These plants allow for high hourly output rates and are usually more cost-effective than comparable batch plants.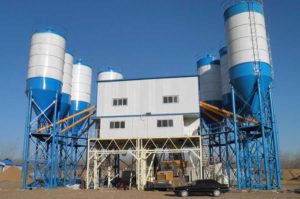 The continuous mixing plant is devel-opped for the purpose of the expressway mechanical construction in which the single variety and large quatities of mixture are needed.the aggregate and cement are weighted with differential bucket scale, the feeding volocity is adjusted with frenquency converter to raise the weighing precision; In order to improve the mixing quality, the dry mixing are seperated from the wet mixing by using two continous compulsory mixing drums, so the lengths of the drums are minimized to improve their stiffness under the condition of keeping longer mixing time. The continuous mixing plant has been used successfully in the concrete expressway construction.
haomei Continuous Concrete Mixing Plant  are developed by our company on the basis of adopting the world's sophisticated technologies; with advantages of high efficiency, reliable performance, easy to control, cost effective, they have been very popular in the domestic and overboard market, and have earned perfect reputations in the construction field at home and abroad.
Application of Continuous Concrete Mixing Plant
Available for many applications, this stationary Concrete Mixing Plant is widely used for water conservancy, electric power, railroad, road, tunnel, the arch of bridge, harbor-wharf and the national defense-project etc.
Haomei machinery equipment co.,ltd. is located in the famous machinery capital of Zhengzhou, China. We are professional machinery products manufacturer-featuring a wide range of quality  Continuous Concrete Mixing Plant , mobile concrete batching plant, concrete pump, truck mixer, block machine and asphalt mixing plant etc.