There are several concrete mixers can be used to the production of concrete batching plant? Concrete batching plant from haomei machinery adopts double shaft forced type concrete mixer as its main host machine, which has the advantages of good mixing quality, strong overload capacity and high efficiency. Concrete mixing plant usually includes two conveying ways: hopper conveying and belt conveying. haomei machinery concrete batch plant is characterized by simple structure, low cost and reliable performance, and is suitable for mixing rigid, semi- rigid, plastic and various proportions of concrete. Now, we will introduce the installation announcements of concrete mixer: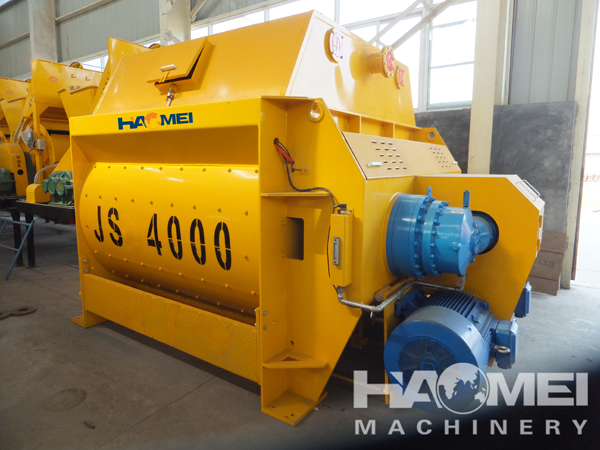 twin shaft concrete mixer
1. The twin shaft concrete mixer should be placed on a solid place to support with a stand or stand bar. It is forbidden to replace the support with the tyres.
2. Before starting the concrete mixer, the operator should check whether all controllers and concrete mixer parts are in good condition and ensure no foreign objects are inside the mixing drum.
3. When the feeding hopper of concrete mixer rises, personnel are strictly prohibited through or staying under the hopper.
4. After the completion of the work, the operator should fix the concrete mixer hopper well and clean up the machine.
5. When the concrete mixer is running, it is strictly prohibited to put the tool into the mixing drum.