Volumetric concrete mixers use an auger to blend cement, sand, gravel, and water into concrete at the work site.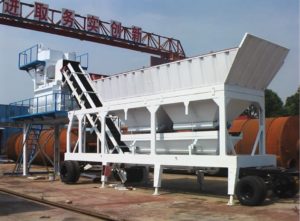 There are multiple reasons to replace a concrete batch plant associated alongside drum trucks with a mobile volumetric mixer. In this article, we will discuss the top ten reasons to start using a mobile volumetric mixer. These ten reasons are not placed in any particular order:
LESS COSTLY THAN TRADITIONAL DRUM MIXING
When using a mobile volumetric mixer, one can control his concrete on each and every pour. His costs are accurate because of the exact knowledge of each concrete ingredient that goes into the mix. Business costs are reduced because there is not employee downtime because the concrete is mixed in the same location that it is poured. Wasted concrete is a thing of the past and the concrete is always fresh.
NO "HOT LOADS" OR LIMITED DISTANCE TO JOBS
The concrete materials have separate storage containers during transportation which ensures a fresh concrete mix to allow for a maximum strength mix for each project. Concrete is made on the site, at the exact quantity one needs.
MORE TIME EFFICIENT
Jobs can be completed on-demand when a crew is ready for concrete. There is no need to go back to the batch plant to alter applications or mixtures between jobs. Different mixes for different applications can be made in real time, on the job site.
CONSISTENTLY PRODUCE THE EXACT MIX DESIGN EACH AND EVERY TIME
Concrete mix designs and additives can be replicated or changed at any time. These mix designs can be half a meter to twelve cubic meters and will produce concrete with low and high resistance, with a specified compression strength of 50psi to 500psi. Computerized calculations are used to make the precise quantity of concrete needed. Each mix stay on the system memory to help you easily navigate to frequently used designs.
These are some applications that one may use with a mobile mixer plant:
Airport RepairBoom Pump Filling Mobile Batch Plant
Back Fill
Bridge Overlays
Commercial Usage
Continuous Pours
Development (Foundations, Streets, etc.)
Difficult Access Locations
Floor Screed
Gunite
Landscaping
Precast
Shotcrete
Soil Stabilization
ECO FRIENDLY
Only using the amount of concrete that one needs eliminates the waste of concrete ingredients. This means saving water and reducing carbon emissions.
LOWER INVESTMENT
One may lower his initial investment by eighty percent. Instead of having to invest in a batch plant and a drum truck, one will only need to have a feeding system and a mobile batch plant.
LABOR
One person can run the entire system. He can drive the truck, feed the mobile plant, and pour the concrete.
MEMORY
Every concrete mixture can be stored on the system's memory. The history of all mixtures and quantities will be saved for future access and use.
MOBILITY
Mobile batch plants can reach remote or difficult to access locations with the fresh, desired concrete mixture due to the fact that it is mixed on the job site.
EASY TO FEED
A mobile mixer can be filled anywhere. As long as there is a stock of cement sacks, sand, gravel, and water, then that location can be your hub to supply the mobile mixer. There is no need for special equipment or large investment.
Have more questions about mobile batch plants? Contact us today to talk to one of our concrete specialists. They will suggest the best equipment suited to your particular needs. Click here to read more about mobile batch plants!