In order to ensure the normal operation of concrete batching plant and extend the service life of equipment, rules of safe production and operation details are specially made.+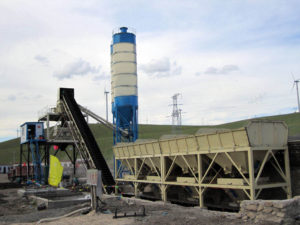 1, Check before Running the Concrete Batching Plant
1.1, Before running the concrete batching plant, the operator should check the reducer ( gearbox ), discharge gate hydraulic pump, mixing shaft head to see whether the amount of lube is sufficient, the pressure is normal, The tubing and joints are broken and detached. Check the lubrication point of belt conveyor, screw conveyor and other parts and adding grease.
1.2, Check if there are metal objects in the concrete mixer,check whether the retaining bolts of blade and liner are loose.
1.3, Turn off the main power →Turn off the control power→Turn off the purification power→Turn off the PLC power →Turn off the industrial power→start the monitoring program, check each monitor indicator for any abnormality.
1.4, No-load start the belt conveyor and running for 10 minutes, check whether the operation is normal, whether there is abnormal sound, whether the conveyor belt with no deviation and fracture.If the abnormality is found, inform the mechanic to remove it immediately.
1.5, Start the air compressor, check whether the operation is normal, whether there is leak in the gas line. Pneumatic pressure should be kept at 0.55 ~ 0.7Mpa, concrete arch pressure should be 0.02Mpa.
1.6, Check the water supply system, liquid admixture system to ensure normal operation, smooth pipeline and no leakage. Ensure that tank and liquid admixture tanks are adequate.
1.7, Check the discharge gate, solenoid valve, cylinder to see whether the opening and closing is normal, check whether the switch and the signal line work normally.
1.8, Manually click the screw conveyor to check whether the operation is normal and add grease.
1.9, It is strictly prohibited to start the concrete mixer with load and shut down halfway, If the concrete mixer stop running because of power failure and other accidents, turn off the main power supply first, open the discharge door immediately, remove the material in the drum to prevent condensation. Restart the machine according to "1.1"
1.10, The main engine runs about 3 hours,the longest not exceeding 4 hours, must be rinsed with water. Pump water into the main engine with water supply pump, stir and rotate for about 3 minutes, then release water and continue to produce.
1.11, In addition to washing by mixer stirring,it must be auxiliary flushed with the high pressure water gun after continuous production of high grade concrete of C40.
1.12, The hoist main engine operates more than 12 hours, the longest no more than 24 hours, must be stopped and thoroughly cleaned by the auxiliary workers.
1.13, Interval and periodic cleaning should be well documented for future reference.
1.14, In the process of production, if the machine standby and stop running, When restart the belt conveyor, it must be no-load operation for 2-3 minutes before feeding production. It is strictly forbidden to start and feed at the same time, to prevent the belt from overloading and damaging.