The china concrete mixing equipment have been exported to many countries, and the "made in china" products are very familiar, but for the protection work, some people do not understand, today we will take about the protection work of concrete mixing plant.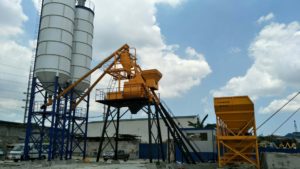 china concrete mixing equipment
Regarding the protection of the concrete mixing plant, firstly, the concrete batching plant and the equipment parts should be lubricated according to the maintenance manual rules and the lubrication cycle table provided by the china concrete batch plant factory. Do not underestimate the lubrication and the work, many concrete mixing plants usually has "hold shaft" problem due do not pay attention to lubrication while using a short period. We should often checked whether the blades and liners in the concrete mixer are loose, and the gap between the blades and the liner should be adjusted on time and replaced as appropriate. All wires should be properly protected to prevent crushing or bruising during work. The punctual split-type gears are inspected to ensure the tightness of the high-speed belt to prevent slippage and wear. Following the development of design and manufacturing technology, many new technologies, new materials and new structures have been adopted on the china concrete mixing equipment, so that the incidence of defects in mechanical equipment is also reduced.