In normal operation mode, there is no risk of stationary concrete batching plant while in some illegal operation it is possible. Construction machinery may have certain degree of risks. Today we will talk about the factors you need to pay attention to in op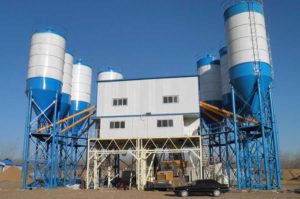 eration process of concrete batching plants.
When concrete batching plant is discharging, the operator is not allowed to stand under the discharge port. The discharge port in discharge time is usually like flood coming and if there are some people standing below, it may easily cause casualties.
concrete plant
In the operation process of JS series concrete mixer, if the mixing bin blockage occurs, the staff shall not immediately go to sort out. Only after turning off the power of concrete batching plant it can be sorted out. You should also pay attention to lightning, rain or other extreme weather condition. Always pay attention to fire safety and remember that security is the first.
On the whole, concrete batching plant should be strictly operated according to relevant rules and regulations. If you want to know more about construction equipment such as concrete mixing trucks, concrete mixers, concrete pumps and so on please pay attention to our official website.
Our company has been specialized in producing and selling all kinds of construction machinery such as JSS spiral belt concrete mixers, PLD series batching machines, SC series of construction elevators and so forth with high quality and reasonable price for more than thirty years. Our products have high reputation both at home and abroad. Welcome to contacts us or leave us a message if you have interests.