HZS series concrete mixing plant is our company summarizes many years of design experience in concrete mixing station, widely absorbs foreign advanced technology and scientific research, with the principle of the supremacy of users, through well-designed and developed a new generation of high-performance concrete mixing equipment. With modular design, compact structure, reasonable layout, quick installation, easy transition, HZS series ready mix concrete plants for sale are suitable for a variety of roads, bridges, dams, airports, ports and other construction, and commercial concrete production bases.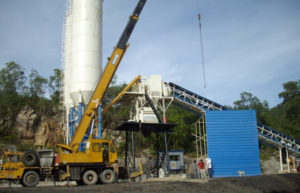 HZS Concrete Batching Plant
Wear-resisting mixer
Concrete batch mix plant adopts Sicoma compulsory twin shaft mixer, liner and stirring blades use high hardness, wear-resistant chromium material; shaft seals adopts automatic sealing lubrication system, not only can effectively prevent the intrusion of mortar, but also use the minimum oil; discharge gate with hydraulic drive, can effectively avoid discharge door difficult to open due to lack of pressure. All these structures greatly improve the reliability and durability of concrete mixer.
Good quality, high mixing efficiency
Mixer reducer adopts foreign standard technology to produce, with compact structure, high transmission efficiency, low noise, long life and high mixing quality.
Stirring quickly and evenly
Mixing arm and blade with spiral design, can stirring rapidly and evenly, stirring time only needs 30 seconds.