Haomei
Mobile Concrete batch Plant
  for sale is a leading Supplier& Manufacturer of
Mobile Concrete batch Plant
in China, With over 10 years of manufacturing and design experience, combined with a superior technological infrastructure, Haomei have developed a unique and robust range of quick erect,
mobile concrete mixing plants
, which have become internationally renowned for their high quality and reliability. Haomei
Mobile Concrete mixing Plants
are rapidly becoming the preferred choice for many of the world's construction and concrete producing professionals from around the world.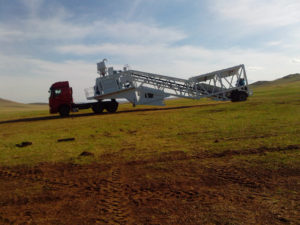 Haomei's unique portable design provides quick and easy erection and reallocation and is proven to lower operational and maintenance costs, which provides increased confidence, due to minimal breakdowns.
At the heart of every portable Concrete batch Plant, beats one of our specially designed, high quality Single Shaft or Twin Shaft Mixers, which are proven in the production of all types of high quality and high performance, concrete mixtures.
haomei's comprehensive range of Concrete batch Plants and concrete mixers provides our customers with an unrivalled industry choice of equipment, to meet every application.