Once at the site after construction, ready to work when the Truck-mounted Concrete Pump suddenly happened fault of the hydraulic system of the whole car all without pressure, feeling transfer case output power in driving the position, when the driver sends out the switch to the Truck-mounted Concrete Pump position command, see the fork rod end can be retracted, but the separation within the gear transfer case just don't leave the driving position, so the gear pump will not switch to the position. Although the arm has been recovered, three legs have been raised, but the legs have not been fully recovered. The most vexing problem is that there is a front leg fully supported on the ground, the pressure on the body around 1/4 weight, close to 10t of gravity on the leg. If you do not solve the problem, even if the pump can drive, can not return to the company from the site.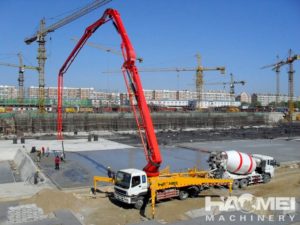 The method and process of repairing concrete pump transfer switch fault
The Truck-mounted Concrete Pump  after the car stopped, along the shaft removed before and after the transfer case. Lift the pump group with the main pump by hand, remove the pump set, and then remove the arm and leg pump. Remove the transfer case, after the disintegration of the copper alloy fork was broken. Contact with the manufacturers to buy fork issue, manufacturers can not provide cash, can only be ordered to the German headquarters, and ten days to arrive. For the solution of the brazing method as pressing danger, will break the fork repair, first broken end face grinder groove welding method will play, with a fork welding, use corner grinder will dispose of the extra meat welding, use sandpaper the surface treatment, after cleaning after installation, commissioning everything is normal.